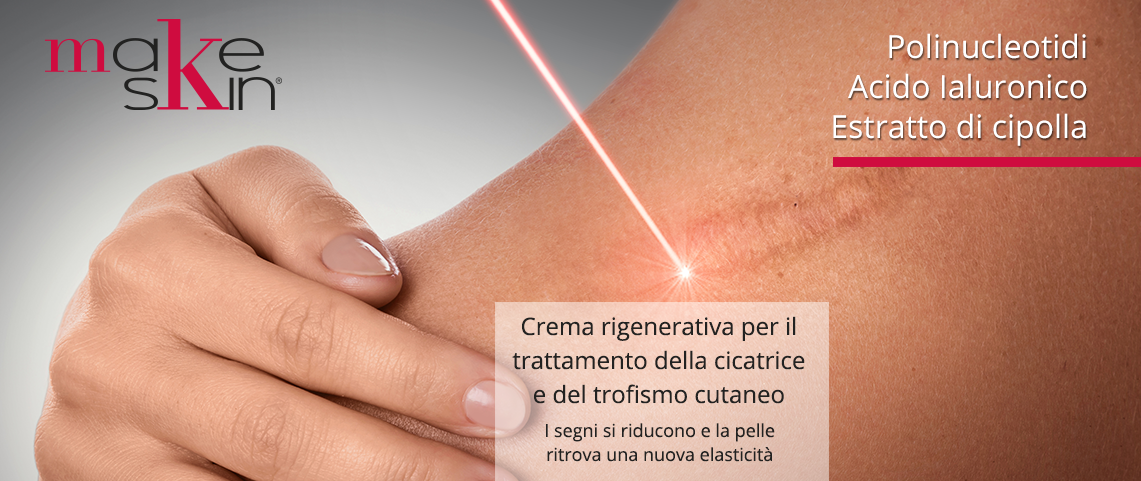 makeskin® is a regenerative cream for the treatment of scar and skin tropism for recent and old scars.
Used regularly, it helps to prevent the formation of keloids and hypertrophic scars and restore elasticity and tone to the skin, keeping the scar soft, smooth and improving the functionality of the skin also in pediatrics.
makeskin® reduces of skin blemishes caused by:
keloids
hypertrophic scars
surgical and traumatic scars
burns
vaccinations
acne
In recent scars:
It helps protect the skin and improve repair processes following the stress caused by surgical treatments, surgery, wounds and burns. It improves the physiological remodeling of the skin counteracting the aggression of free radicals.
It helps restore skin tonus, elasticity and the tensile strength of the scar.
In pre-existing scars:

It helps improve both elasticity and softness of the cicatricial tissue and restore the functions of the skin, contributing to reduce the skin blemishes. It reduces the associated symptoms, if any, such as erythema, burning and itching.
makeskin® contains:
Nucleotides are substances of natural origin that are ubiquitous in our body and are extracted and purified according to an original method by Mastelli; they help skin renewal and the physiological remodeling of the repair process
Natural hyaluronic acid performs a deeply moisturizing and protective action
Vitamin E performs anti-oxidizing and anti-radical actions
the onion extract counters the overgrowth of the fibrous connective tissue
Ingredients: hexyldecanol, hexyldecyl laurate, betaine, cetearyl alcohol, potassium cetyl phosphate, tocopheryl acetate, sodium hyaluronate, acrylates/vinyl isodecanoate crosspolymer, sodium DNA, caprylyl glycol, 1,2 hexanediol, sodium hydroxide, tetrasodium EDTA, allium cepa extract, tropolone.
Nikel Tested – Preservatives  Free – Perfume Free – Alchool Free
Apply twice a day on the area with a light massage.
Warnings
For external use only. Keep away from heat. Do not dispose in the environment after use. Do not use the product in case of  known intolerance to one or more of its ingredients.